The NEXUS interview varies between NEXUS enrollment centers but is similar to clearing customs at the airport. Your interview will take 30 minutes and takes place at the enrollment center of your choice. You will be interviewed twice; once by a customs officer from the USA and again by one from Canada. It is best to download directions to the Enrollment Center and once there to leave enough time to find the building where your NEXUS interview will take place; some Nexus offices are not well marked.
NEXUS Supporting Documents
You should take the following supporting documentation with you to your NEXUS interview:
Passport, Birth Certificate, Permanent Resident Card, US or Canadian Visas – any document listed on your application, which was

used to verify that you are a that you are a Canadian or US citizen or permanent resident.

Vehicle title registration papers for all vehicles you intend to use to cross the border – the make and license plate numbers will

be

entered onto your NEXUS file and you will not be able to cross in any other vehicle.

a notarized letter authorizing your vehicles use if it is not owned by you e.g. if it is owned by your company you must produce a

letter of authorization on your company's letterhead.

Proof of your address e.g. a mortgage statement, ownership deeds or a rent receipt or a utility bill.

Proof of custody and /or parental consent to take child across the US border if applying for a child under 18.

a valid driver's license from the US state where you live.

NEXUS conditional approval letter.
The documents you actually need to present at the NEXUS interview really do vary between interview locations and the NEXUS officer conducting the interview. Some NEXUS applicants had to show all documents whilst others were only asked for a driver license and passport; some have reported that the officer in the NEXUS kiosk next to them asked for different documents to his colleague.
NEXUS Interviews for Children
Child and infant NEXUS applicants must attend the NEXUS interview. If you are applying as a family it is vital that you all attend on the same day and time. If you schedule your interview online you will have to make a separate interview appointment for every member of the family, but you will all be seen together on the day. Customs and Border Protection Canada / US are very concerned about child abduction issues; if you and your spouse are separated you must take along notarized letters of consent from your estranged partner that allow you to take your children out of the country. If you have custody documents you should take these too. When you travel with your kids under the Nexus program be sure to have these documents at hand; many border guards have disallowed single parents to cross the US Canada border without proof that they had the other parents consent to do so.
NEXUS Interview Questions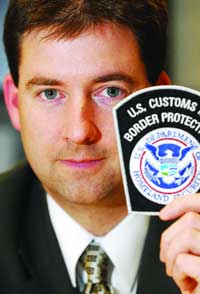 NEXUS InterviewAt your NEXUS interview you will be asked many of the questions that you have answered on your NEXUS application form. Whilst this is frustrating you should answer the NEXUS interview questions politely and truthfully. The questions asked at the NEXUS interview are straightforward. Frequently asked questions at the NEXUS interview are:
"Why do you want the Nexus card?"
"How often do you plan to use the NEXUS pass?"
"Where do you think you will travel to in Canada /the States?"
"Do you still live at this address?"
"Were you always known as [your name]?"
"Do you realize there are restrictions to holding the NEXUS card?" You can answer "No" because the NEXUS program will be explained to you.
"Have there been any changes since your application?" This means things like a new address or recent criminal charges; there is no point in lying because both countries' customs officials have access to your criminal record.
More obscure questions which have been asked revolve around criminal records and behavior:
"Have you ever taken drugs?" This means that you may not have a criminal record for drug taking but by answering "Yes"' you will be denied; One Nexus applicant was denied NEXUS because she was asked about her pot smoking habits and she said she had smoked pot 17 times.
NEXUS Program Rules
Once the questions have the interviewing officer will explain the Nexus program rules to you and answer your questions. You will be given a thick pamphlet that tells you what you can and can't bring into the country under the Nexus program. Transporting forbidden goods (fruit, meats, etc) will entail confiscation if you are caught and your NEXUS card will be revoked. You will be unable to re-apply because your status as a trusted traveler will have been jeopardized. NEXUS interviewing officers specifically warn you that everyone traveling in the car must have a Nexus card. You will also be warned that if you do have non-Nexus passengers in the car and you drop them off at the border to walk across, you will have your Nexus card revoked on the spot – customs and border patrol do not want pedestrians walking through the traffic approaching the border.
Your biometric data will be taken for storage on your NEXUS pass; you will be fingerprinted and photographed using a low quality web cam. If you want to use your NEXUS pass for air travel you must have an iris scan, but only a limited amount of NEXUS interview locations have the iris scanning facility.
You will be informed at the interview whether you qualify for the NEXUS pass; most people who make it to the conditional approval stage qualify for their NEXUS card, but this is not guaranteed. You will receive your NEXUS card in the mail 7 to 10 days later; they are sent out from the NEXUS HQ in Vermont. Some NEXUS cards get lost in the mail whilst others are simply not sent out because the Nexus officer forgot to forward your application to NEXUS HQ. Once the Nexus card arrives it must be activated online following the instructions sent with it.
IPVS does not guarantee approval for any Trusted Traveler program. Inaccurate or incomplete NEXUS pass application forms are automatically denied access to the NEXUS cards program.


More questions about Nexus? Read our FAQ`s